Clear Measure

Clear Measure is an expert software engineering firm with a relentless focus on delivering measurable business outcomes. We build, integrate, and modernize your critical software assets. We help you manage them through their entire lifecycle to maximize ROI. As experts in sophisticated business-critical custom software systems, we can take full responsibility for a system, or provide consulting, training, or any type of assistance including layout of the full software configuration management foundation including continuous delivery powered by world-class technologies. Clear Measure's headquarters are in Austin, and we also operate in other parts of Texas as well as around the U.S. and Canada.
Cognitive X Solutions, Inc.

Cognitive X Solutions is a software solutions provider based in Moncton, New Brunswick, Canada. Our services include custom application development such as web, mobile and desktop development as well as business process automation and project coordination.
igloocoder.com Consulting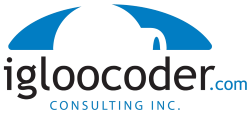 igloocoder.com Consulting specializes in brownfield application rejuvenation, system architecture and software development practices. With a proven history of working with AOP, igloocoder.com Consulting has in-depth knowledge of AOP principles and offers training and consulting for the PostSharp platform.
Interested in becoming a PostSharp Consulting Partner?
We have developed the PostSharp Partner Program to cooperate with consultancies and system integrators to help them deliver solutions faster and at lower cost. See the Partner Portal for more information and to apply.